Dominika Kasperska
Bachelor/Fine Art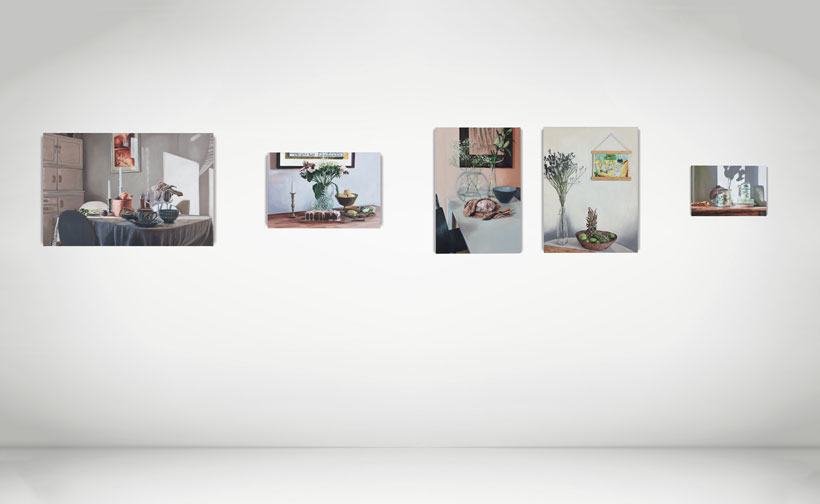 Hemnet Junkie
– Are you usually afraid of not being able to take care of yourself?
– Yes, I'm scared of becoming homeless.
– Why would you become homeless?
– Because I'm totally unemployable.
Mark Fisher writes about the human psyche in late capitalism and the passivity which results from it. We become "incapable of doing anything but seeking pleasure" and dedicate ourselves to depressive hedonism and instant gratifications.
I google:
"hemnetjunkie"
In an article Hemnet says:
– Over one third have no plans of moving. People want to dream away and think of what might be possible in the future.
Dominika's practice starts with the photograph and works with its translation to painting. It becomes a way of processing the feeling of alienation before the digital image flow. The paintings become independent in contrast to the dependent photo, which relies on a network. From an almost endless amount of photos, images are picked out and re-curated.
She's interested in the structure of painting and in what happens when a digitally existing photo becomes a physical object.
Hemnetknarkar
– Brukar du vara orolig för att inte klara av att ta hand om dig själv?
– Ja, jag är rädd för att bli hemlös.
– Varför skulle du bli hemlös?
– För att jag är totalt oanställningsbar.
Mark Fisher skriver om det mänskliga psyket i senkapitalismen och den passivitet som resulterar av den. Vi blir "oförmögna att göra någonting förutom att söka njutning" och ägnar oss åt depressiv hedonism och instant gratifications.
Jag googlar:
"hemnetknarkar"
I en artikel säger Hemnet:
– Över en tredjedel har inga planer på att flytta. Man vill drömma sig bort och tänka på vad som kanske kan bli möjligt i framtiden.
Dominikas praktik utgår från det digitala fotografiet och arbetar med dess översättning till fysiska målningar. Processen blir ett sätt att bearbeta känslan av alienation inför digitala bildflöden. Målningarna blir självständiga i kontrast till det osjälvständiga fotot, som är beroende av ett nätverk. Ur en nästintill oändlig mängd foton, väljs fotografier ut och om-kureras.