Martina Moriondo
Bachelor/Industrial Design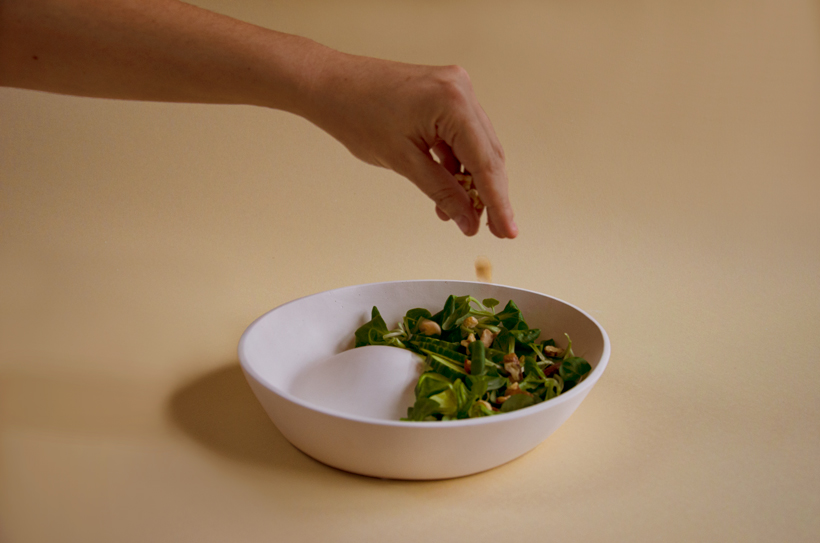 Back to the Table
Back to the Table is a collection of tableware designed to enhance the experience of the solo meal. The products, thanks to their sinuous and unconventional shapes, encourage the user into using creative and careful plating techniques.
My degree project aims to tackle the negative perception surrounding the consumption of a meal alone, as experienced by the millennial, and the consecutive progressive lack of motivation and interest in cooking. Opposite to communal feasts, where preparing and eating are regarded as a pleasant activity, consuming a meal in the privacy of one's own apartment is often a very brief and empty moment, carried out without commitment and as fast as possible. This leads to a more negative perception of the eaten food and eventually to even poorer nutrition.
Taking advantage of the huge effect that the visual aspect of food can have in its perception and in boosting motivation, the collection nudges the user into rethinking their usual meal and into paying more attention to what s/he will be eating. Organic volumes and curves are used to create new surfaces and define different areas to inspire and guide towards experimenting with the plating of food in infinite ways.
The product was derived from the massive presence of pictures of meals on social media and the rise of the concept of 'instagrammable food' among the younger generation. Taking advantage of this trend, Back to the Table can be a tool with which the user can create something to be proud of.
Back to the Table
Back to the Table är en bordsservis som tagits fram för att förhöja upplevelsen av en måltid på egen hand. Produkterna uppmuntrar, tack vare sina kurviga och okonventionella former, användaren till att duka kreativt och omsorgsfullt.
Mitt examensarbete syftar till att ta itu med den negativa uppfattningen om att äta en måltid ensam, som den upplevs av millenniegenerationen, och den följande gradvis bristande motivationen och intresset för matlagning. Motsatt till gemensamma högtider där förberedelser och ätande betraktas som en trevlig aktivitet, är en måltid i enskildhet hemma i sin egen lägenhet ofta ett mycket kort och tomt ögonblick utan engagemang och som helst ska utföras så snabbt som möjligt. Detta leder till en mer negativ syn på den mat som äts, vilket till slut leder till ännu sämre näringstillförsel.
Genom att utnyttja den stora påverkan som den visuella aspekten har på uppfattningen av mat, och som motivationshöjare, påverkar kollektionen användaren till att ompröva sin vanliga måltid och ägna mer uppmärksamhet åt vad han eller hon äter. Organiska volymer och runda former används för att skapa nya ytor och definiera olika områden för att inspirera och vägleda mot ett oändligt experimenterande med dukningen av en måltid.
Produkten härrör från den massiva närvaron av bilder på måltider i sociala medier och begreppet på uppåtgående i den yngre generationen med "instagramvänlig mat". Genom att dra nytta av denna trend kan Back to the Table vara ett verktyg med vilket användaren kan skapa något att vara stolt över.
Bachelor
Industrial Design