Emilia Sundqvist
Master/CRAFT! Textiles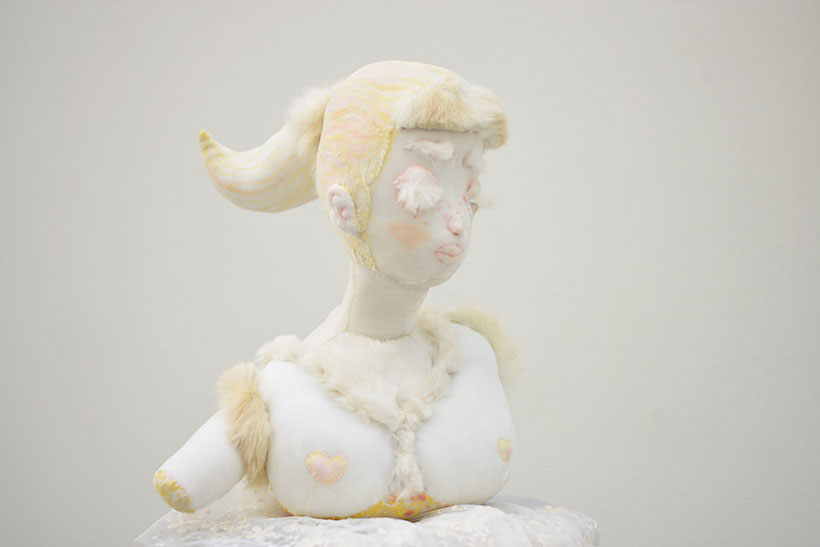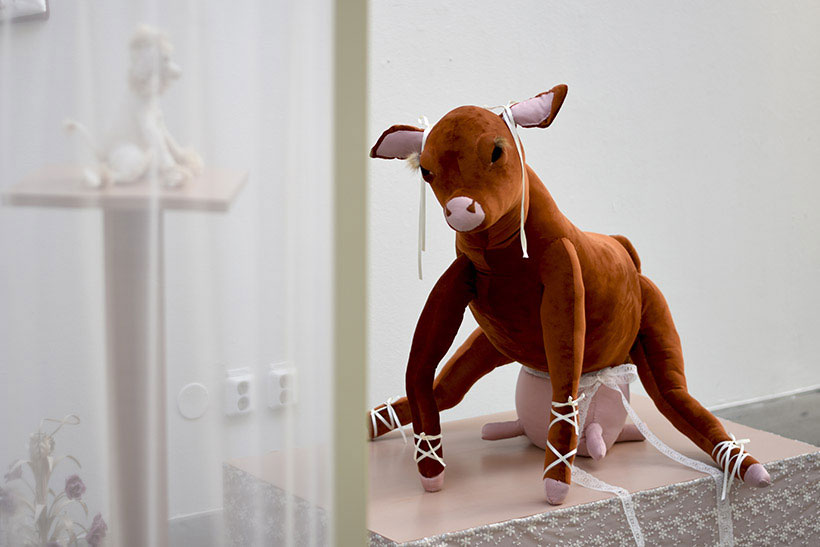 Come into My World
My creative beliefs come from an idea of wanting to invite the viewer into a world where 'cuteness' exists as an aesthetic for art, elevating vulnerability to a strength. Through printed patterns and textile sculptures, I create this world.
I work with materials such as silk and velvet. The fairness of these materials combined with my big, visible, unconventional stitches creates a new expression that becomes both powerful and vulnerable. I am using aesthetics which can be recognised in contexts such as Disney, folklore, and children's toys, e.g., Steiff animals. With these aesthetics in mind, I try to add a twist to the nostalgia, questioning it and exaggerating the darkness found in old-fashioned stereotypical interpretations depicting the welfare of women and animals.
The outcome of my practice is a world where animals become human-like, and vice versa, where cute things become sardonic and where emotions get mixed up and tangled up in each other.
Titles of various works:
I Felt Like a Cake
Byst
Pudel
Mama Bear
Kvinnodjur
Kom in i min värld
Min kreativa övertygelse kommer ifrån en idé att vilja välkomna betraktare till en värld där gullighet existerar som en estetik för konst och omfamna sårbarhet som en styrka. Genom tryckta mönster och textila skulpturer skapar jag denna värld.
Jag arbetar i material som silke och sammet. Det ömtåliga och skira i dessa material kombinerat med mina stora, synliga, okonventionella stygn skapar ett uttryck som är både kraftfullt och sårbart. Jag använder mig av estetik som kan kännas igen i kontexter som Disney, folklore och barnleksaker (Steiff-djur), med dessa i åtanke försöker jag addera en twist till nostalgin, ifrågasatta den, överdriva det mörka som finns i dessa omoderna stereotypiska tolkningar föreställande omvårdnaden av kvinnan och djuret.
Resultatet av mitt praktiserande  (min praktik) är en värld där djur blir människolika och vice-versa, där gulliga ting blir sardoniska och där känslor blandas ihop och flätas samman i varandra.