Caroline Harrius
Master/CRAFT! Ceramics & Glass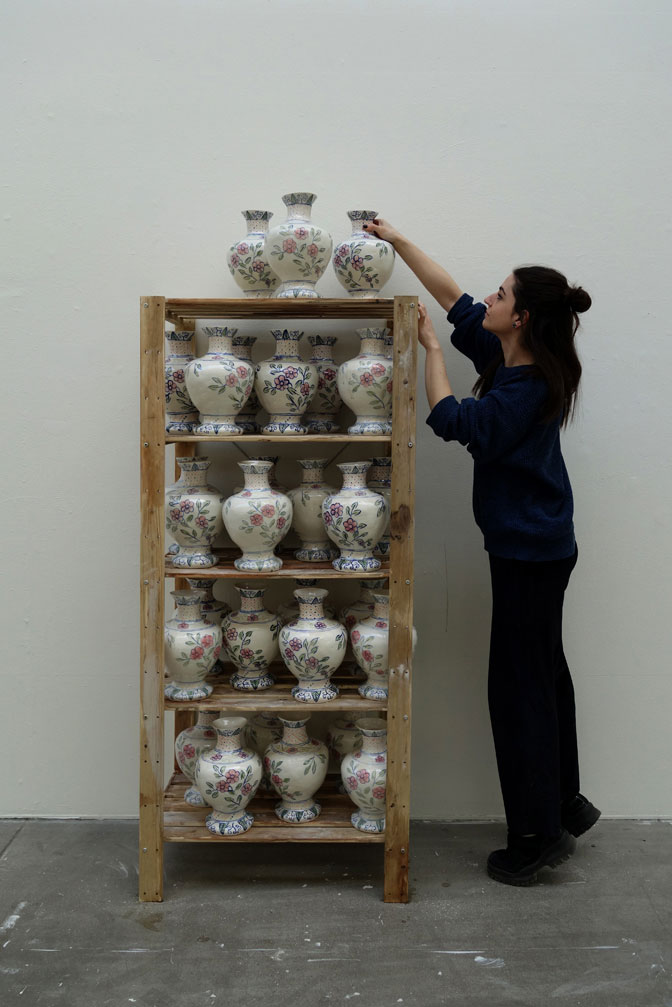 The Repulsive Flower
In my degree project, I am investigating my relationship with Western traditional porcelain produced between 1700 and 1900 from a gender perspective. While looking at what has been feminine-coded within the late history of ceramics, I made the horrible realisation that I do not value these kind of ceramics. In a 21st century Scandinavia, with stripped down, clean surfaces, filled with cool people dressed in black, there is little room left for romantic, billowy vases decorated with colourful flowers.
I have produced a series of 30 porcelain vases all decorated in the same way with a botanical pattern. They are installed on an old wooden shelf packed tightly together. With this installation, I want to discuss what part of art history has made it to the museums and what parts have been stored away and labelled as tasteless knick-knacks. How has gender affected this? For some reason, all my artistic role models have been male painters and not female ceramicists.
The Repulsive Flower
I det här projektet undersöker jag min relation till västerländskt traditionellt porslin tillverkat mellan 1700 och 1900 ur ett könsperspektiv. När jag studerade vad som har varit kvinnligt kodat inom den sena keramikhistorien gjorde jag den fruktansvärda upptäckten att jag inte värderar den typen av porslin. I ett avskalat 00-tals Skandinaven, där ren yta och svala personer klädda i svart är normen finns det inte mycket plats för romantiska, böljande vaser dekorerade med färgglada blommor.
Jag har producerat en serie med 30 porslinsvaser, alla dekorerade likadant med ett botaniskt mönster. De är tätt packade i en gammal lagerhylla i trä. Med den här installationen vill jag diskutera vilka delar av konsthistorien vi har valt att föra vidare och vilka delar som har blivit stämplade som smaklöst krimskrams och borde stå kvar nere i lagret. Hur har de historiska könsrollerna påverkat det här? Av någon anledning har alla mina konstnärliga förebilder varit manliga målare, inte kvinnliga keramiker.
Master
CRAFT! Ceramics & Glass