Out of Order: Grad Show of the 'Lost Year'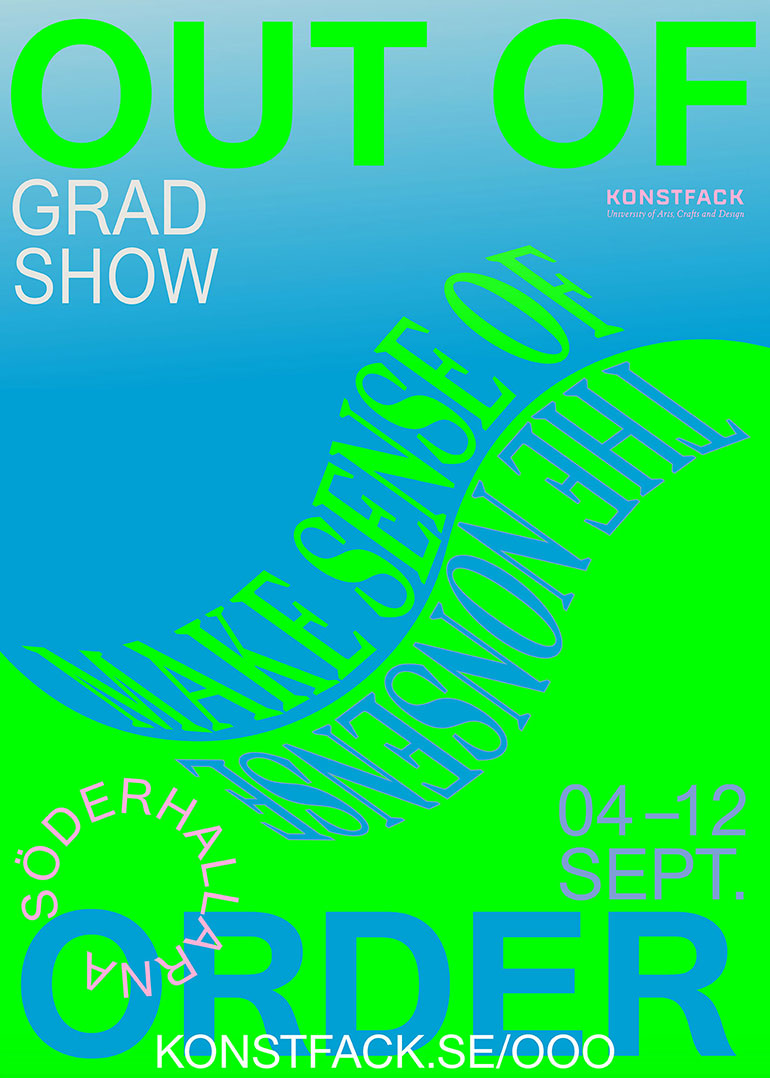 Out of Order: Grad Show of the 'Lost Year'
Söderhallarna
4 – 12 September 2020
How to relate to our strange world, a world in flux? We all develop different strategies:
Changing the world, rearranging it or creating completely new worlds, within or beyond the one we inhabit. We mediate between future and history, technology and biology, fear and action. We try to make sense, or we give in to nonsense.
"Out of Order" unites the works of 10 Konstfack 2020 graduates and their take on the current state of our times. Times when public spaces create an imminent threat and also work as a force of action, when digital reality takes over the real world and an abandoned shopping mall becomes a platform for expression, when the notion of change becomes the only constant.
The exhibition takes place in Söderhallarna – one of Stockholm's best examples of postmodern architecture, a remarkable construction which is lost in the visual noise of an always busy Medborgarplatsen. Almost empty inside, the building becomes a symbol of our time: a cinema closed due to the coronavirus restrictions, several floors of empty stores which went bankrupt due to internet shopping and a beehive on the very top of the mall – an attempt to give a structure built for the purposes of old times a new meaning and take us from concrete jungles closer to nature.
The empty spaces of Söderhallarna becomes a safe place for 10 graduates of the "lost year" to reflect on some of the fundamental issues of our time: from the effect of digital technology on our behaviour and disappearance of romance to a very grim image of the world which we follow in real time on our smartphones.
Participating artists: Jo Andersson, Elsa Binder, Agnes Eriksson, Linda Hallstan, Caroline Harrius, Linn Henrichson, Sissela Jensen, Gurli Kruber, Alexey Layfurov, Fritz Østeb.